14 Easy Ways to Date Your Children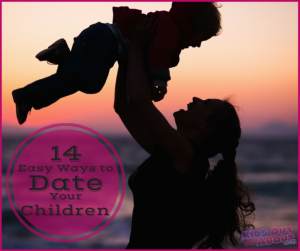 I value the importance of making time to date my husband, but being in a new city without the natural supports of friends and family, even on Valentine's Day it will not be possible for us to have a kid-free date night.  We will be enjoying the day with our children, decorating heart shaped cookies and giving lots of squeeze hugs, followed by our version of date night which will likely include catching up on The Blacklist on Netflix and snacking on Little Debbie Valentine Cakes.
Valentine's Day has really got me thinking about the concept of "dating" not only my husband but my children as well!  Growing up I have fond memories of my Father celebrating "Meghan & Ashley Day" with me and my sister, and I want to leave my children with similar memories, and honor my late father by continuing his tradition.  With four kids, it's rare that anyone gets time away from their siblings in our house, so we rotate through 1:1 "dates" with each of the kids (sometimes with mom, sometimes with dad).
When we think of dates, many of us picture dressing fancy for a nice dinner, which can be fun and special, but dates with your kids can truly be as fancy or casual as you'd like!  Often times our kids place a huge value on some of the simple things we often take for granted, which can make for pretty amazing memories!
Grocery shopping. Many grocery stores can be a mini-day trip with your child, too!  Grab a bite to eat in the cafe (or just a free cookie from the bakery), then get your shopping list out and let your child help you find all the items, check them off the list, and maybe even make a couple impromptu purchases!  It's a super special treat if I let her push the cart, and I try to schedule these "dates" when it's not as crowded in the grocery store.
Get the car washed. Kids love going through the car wash!  Head in and pick up some snacks before you embark on your soapy journey – make sure your windows are up!
Dollar Store. There is something amazingly fun and empowering about knowing you can get ANYTHING you see – go on a little shopping spree with your kiddo.  Set a budget of course, but remember that even one dollar will be fun for your little ones!
Bowling. Bowling can be a great activity for kids of (almost) all ages.  Many alleys have bumpers and ramps to allow kids as young as toddler-aged kids to have fun bowling.  My first date with my husband was bowling - so this one holds sentimental meaning for me!
Museum/Indoor Play Center. Spend a day at the children's museum, art museum, science/history museums, or one of the area's Indoor Play Centers (check our resources above for local ideas!).  Let your date call all the shots about where to go within the venue, then allow yourself to let loose and make memories with your kiddo!
Zoo or pet store. Kids love animals, so there's always something new to see

and memories to make!

Library/bookstore. Read a book together on-site

, or choose a book to bring home.  

Picnic. Whether you pack your picnic as a part of a larger excursion, or as the highlight of the date, picnics are fun for kids, and can keep costs low by avoiding pricey restaurants, if you're on a budget!
Playground/Park. Go outside of your comfort zone and visit a NEW playground!   Swing, slide and climb like you did when you were a child.
Live Theater. Seek out a family-friendly show from a local live performance theater or one of the local middle/high schools!
Sporting Event: Whether it's high school, collegiate, semi-pro, or pro – cheer on your favorite teams or explore a new sport!
Home "Alone." Sometimes we send one parent out with all but one of the kids – allowing "date night" to happen right at home.  Get a snack and play a board game, make a craft, or read a book together.
Restaurant. Going out to eat can be a lot of fun, whether it's a fancy restaurant, dessert only, or fast food.  Check your area for local kids meal deals too, and save money on your date night!
Special Events. Last (but definitely not least!) check the KidsOutAndAbout.com Events Calendar for special events going on – storytimes, make-and-takes, and other special events will all make perfect dates with your kids!
I'd like to leave you with a little reminder that it's not about the MONEY you spend, but the TIME you spend together.  <3
"Sometimes the most ordinary things could be made extraordinary,
simply by doing them with your children!"
---
Meg Brunson, a mom to four kids, is Editor of KidsOutAndAbout Phoenix and a KidsOutAndAbout Client Services Representative.
This article was adapted from an article written by Meg in 2016 on her blog, EveryMomDay.com