Beyond the Nest Reviews Blackfriars' Guys and Dolls
-by Carol White Llewellyn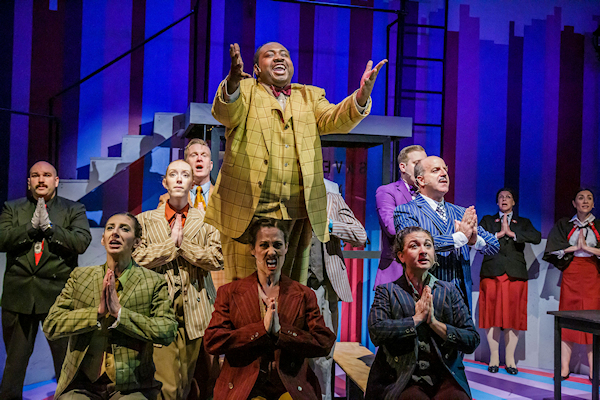 To celebrate its 70th Anniversary, Blackfriars Theatre opens its season with Guys and Dolls, a musical also celebrating 70 years of success. This show has had numerous major revivals from Broadway to London's West End. The music and lyrics by Frank Loesser and book by Jo Swerling and Abe Burrows share an intriguing story of love and 'win or lose it all,' through memorable music, snappy dialogue, and great dance numbers.
Director Danny Hoskins didn't roll the dice on this cast. He brought in a stellar lineup, many of whom are Blackfriars veterans, and has produced a sparkling show that is a credit to his direction and the theater's history.
Patrons who saw Blackfriars' Anna in the Tropics will be happy to see the return of J. Simmons, who played Juan Julián last season. As Sky Masterson, he is a suave and savvy high roller who wagers $1000 he can persuade the pious Sargent Sarah Brown (Lani Toyama Hoskins) of the Save-a-Soul Mission to fly with him to Havana. Once he manages to get her there, he realizes he cares more about her than he'd anticipated. In an amusing scene where she literally lets her hair down, we see she has transformed him as completely as he has transformed her. The two close out the first act with a trio of poignant songs that beautifully showcase their soaring voices.
Scott Shriner's Nathan Detroit is a smooth-talking shyster. Still, fourteen years is a long time to keep a gal on the hook, as he manages to float the prospect of marriage to Miss Adelaide (Laura Jean Dickman) even more smoothly than he floats the location of his illegal crap games. There are some marvelous comedic scenes between the two of them. As the Hot Box headliner, Dickman carries off some of the funniest scenes of the play with pizzaz and charm, as well as with a powerful, dynamic voice.
This is a show meant to entertain, and even Nathan Detroit's entourage of loyal thugs (Tom Racculia, Eric Schutt, Scott Schutts) are almost more amusing than scary, in their zeal to rule an underworld filled with horse racing, gambling and gals.  The "gals," Miss Adelaide's Hotbox chorus line, are a group of four talented women (Jennie Gilardoni, Tina Hoffman, Lexi Osher, Hadley Strelau) who sing, dance, and swing roles between showgirls, gangsters, and ensemble.
In a joyous scene at the Save-a-Soul Mission, where the gamblers come to "repent" after losing a bet to Shy Masterson, Nicely-Nicely Johnson (played by Alvis Green Jr., whose character is so funny he steals the scene each time he takes the stage) leads fellow sinners in a rollicking version of "Sit Down You're Rockin' the Boat."
Mandy Hassett's choreography is exciting and fun, and it's carried off by the cast with dynamic execution, which is a feat in such an intimate space.  The dancing is matched by the musical prowess of cast and orchestra, directed by Julie Covach.
I am always amazed at Blackfriars' creative use of space. The  innovative lighting by Nic Minetor, inventive projection design by Ron Heerkens Jr. and creative, minimalist sets by Tyler Pacilio easily transport us from Hot Box to Havana, and all places in between. Diane Spacher's creative costuming gleefully captures the essence of the era.
Blackfriars' Guys and Dolls is a captivating production. The only gamble on this show isn't whether you'll like it, but whether you'll be able to get tickets before it's sold out, because they're going fast!  You can catch Guys and Dolls at Blackfriars Theatre through September 15. Tickets are available online and at the Box Office. The show is appropriate for ages 12 and up.
P.S. And I betcha  8 to 1, you'll be walkin' out hummin' a medley of show tunes!
 Photos of the cast of Blackfriars' Guys and Dolls by Goat Factory Media/Ron Heerkens Jr. 
---
Carol White Llewellyn is Editor of BeyondTheNest.com and the host and producer of Conversations with Creatives, a cable and online TV program that explores the arts and celebrates artists and their work.