Beyond the Nest Reviews Blackfriars 25th Annual Putnam County Spelling Bee
by Carol White Llewellyn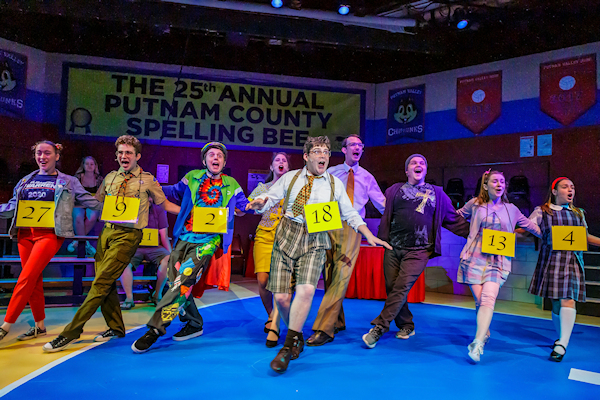 When you hear the words "spelling bee," do you quake in your shoes, thinking back to uncomfortable moments standing at the front of your fifth grade classroom, trying not to make a fool of yourself?  With this unsettling memory buzzing in my head, I have long wondered how a successful musical could possibly be made about the 25th Annual Putnam County Spelling Bee.  Rest assured, it is exactly those disquieting memories that Rebecca Feldman and Rachel Sheinkin channel and leverage to create this funny, captivating show.
Blackfriars' production opens on the Putnam County gymnasium, very cleverly designed by Scenic Designer Tyler Pucilio and Assistant Scenic Designer Irene Brimm. Six quirky youth competitors match wits and spelling prowess in their attempt to take home the enormous spelling bee trophy. The bee is overseen by three equally eccentric adults. For good measure and an additional bit of good-natured improv fun, four volunteer members of the audience are invited to take part in the action, often with hysterical results. This powerhouse cast, composed of rising juniors in high school through newly graduated seniors in college who are taking part in  Blackfriars Theatre Summer Intensive (BTSI), swarms onto the stage, exhuberantly singing, dancing, acting and spelling their hearts out.
Thanks to the ever-creative direction by Danny Hoskins, spelling scenes that might have dragged move along at a quick-fire and fun pace. The fast-forward scenes juxtaposed with slo-mo add a fun twist, and the dance sequences, choreographed by Lani Toyama Hoskins and Assistant Choreographer Ava Massarao provide exciting and well-synched punctuation. You can tell that Costume Designer Mary Tiballi Hoffman and Assistant Costume Designer Samantha Burton have had great fun in embellishing on each character's personality through his or her costumes.
The moment Melanie McBride as the sparkling and soaring-voiced former spelling bee champion Rona Lisa Peretti takes to the stage, you know you're in for a lively ride. From left-wing activist Logainne Schwartengrubenierre (Savannah Devlin) to Catholic school girl who-speaks-six-languages perfectionist Marcy Park (Chloe Phelps), and from nerdy superhero-on-wheelies Leaf Coneybear (Alec Ewing), to the sexually precocious former spelling champ Chip Tolentino (Alexander Christie), each actor has his or her moment to shine. And shine, each does, both individually, and as an ensemble. If you're initially put off by the screepy "Comfort Counselor" Mitch Mahoney (Joseph Greenan), who is doing court-mandated community service, or by the odd and pompous William "Magic Foot" Barfée (Garrison Hunt), don't let first appearances fool you. Their dynamic vocals alone will win you over.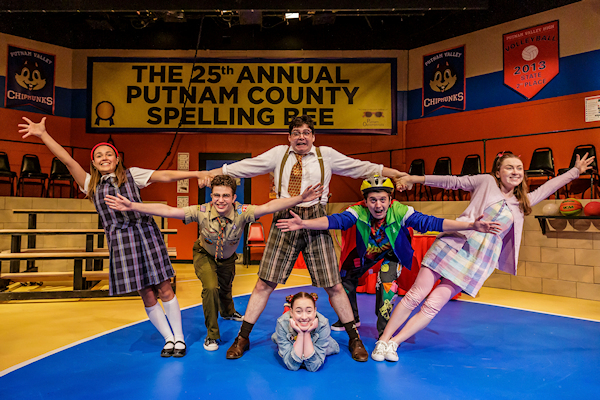 As the pressure of the event mounts, each character's "back story" surfaces adding dimension and often, an unexpected twist to the story. Why, even the mild-mannered and uber-organized Vice Principal Douglass Panch (Joseph Buck) morphs into an amusingly overwrought cartoon copy of his former self, once the heat of the competition is on.
Part of the success of this musical, beyond the music, dance and sheer comedy, is that the spelling bee is a metaphor for a number of universal themes: the nature of competition and sportsmanship, how we as humans face challenges, and how our internal thoughts enable or disable us.
Unlike in the 2019 Scripps National Spelling Bee where they had eight winners (having run out of words to challenge the competitors), we do in fact, have a winner... but no spoilers here! And if you have the delight of seeing Blackfriars' 25th Annual Putnam County Spelling Bee, you will certainly feel like one, for this is one HONEY of a show!
25th Annual Putnam County Spelling Bee is onstage at Blackfriars through July 21. Click here for tickets and more information.
Photos by Goat Factory Media Entertainment.
---
Carol White Llewellyn is Editor of BeyondTheNest.com and the host and producer of Conversations with Creatives, a cable and online TV program that explores the arts and celebrates artists and their work.