Beyond the Nest Reviews Geva Theatre Center's ONCE
-by Carol White Llewellyn
A  show like Once, onstage at Geva through March 22, comes along only once in a blue moon. From the moment you enter the Dublin Bar filled with gangbusters Irish music, you are among friends.
Wait! Did I say you enter the bar? Well, that's exactly how it feels when the musicians storm the stage, even before the show starts, to share a pint, bust out a tune or three, and share a few jokes. Part of this show's magic is that you become part of the community, and travel the journey with them.
Once, written by John Carney, with music and lyrics by Glen Hansard and Markéta Irglová, started life as a low-budget film that had distribution challenges until it caught the eye of a Senior Programmer at Sundance. When it took the 2008 Oscar for Best Song ("Falling Slowly"), its prospects opened to Broadway.
This "Guy meets Girl" surprise encounter that develops into a complicated love story really begs the question, "What could you become if someone believed in you so strongly, it caused you to believe in yourself once again?" That's what Elliot Greer as the character named simply "Guy," is about to find out. He is down on love, disenchanted with the world of music, and he has moved into the apartment above his Dad's vacuum cleaner repair shop. While out busking, Guy meets the charming, funny, and forthright "Girl" (Samantha Sayah) from the Czech Republic who performs Mendelssohn at her friend's local music store in payment for Guy repairing her Hoover... which doesn't suck. You'd be surprised how much comedic mileage you can get out of that word.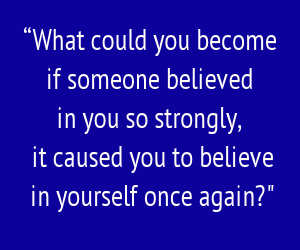 When we first meet Greer's "Guy," his world is as small and downtrodden as his songs are uplifting in their beautiful, raw, and penetrating emotion. Greer's rich, unique voice easily ripples across ballads and belts out the indie folk/rock tunes that form the foundation of this show and which have little to do with the traditional Irish music that opens it.
As his "angel of inspiration," Samantha Sayah's "Girl" has only one solo, but in that, as well as the duets and group numbers, she shines. The two make an indomitable pair, in song and onstage.
In an interview, the show's director Mark Cuddy, confesses that this show took longer to cast than just about any other he's directed, since each actor must excel at acting, singing, dancing, and playing an instrument. Happily, he found a dynamo cast that rises to meet his innovative directing prowess. He brings the audience into the story, making us feel we are in the company of a  musical superstar in-the-making, and it's a heady, magical feeling. Kudos also to Don Kot for his outstanding musical direction. The musical performances in this show are as boisterous and fun as they are soul-filled.
It's so rare when audience members walk out humming the tune of the finale, or when everyone around you leaving the theatre is using the words "amazing," "phenomenal," and "astounding." The only other word I can find to describe this production is enchanting! If you see only one show this season, do yourself a favor, and make it this Once.
 Once can be seen on the Wilson Stage through March 22. It is appropriate for teens and beyond. Click here for more information and tickets. 
Photos by Ron Heerkens, Jr. Photography
---
Carol White Llewellyn is Editor of BeyondTheNest.com and the host and producer of Conversations with Creatives, a cable and online TV program that explores the arts and celebrates artists and their work.