Beyond the Nest Reviews Hangar Theatre Company's Production of Fortune at Geva
-by Carol White Llewellyn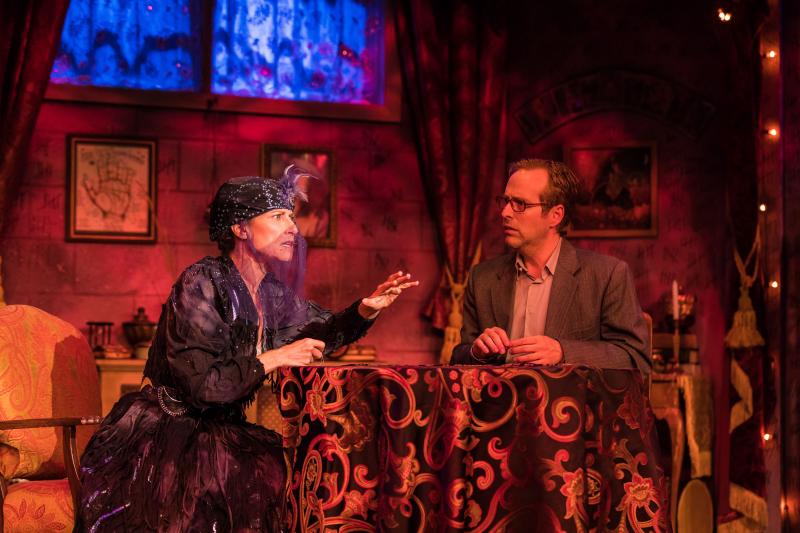 What real control do we have over our lives? Do we have a "destiny" we can change by taking a divergent action? Is it worth giving up the fear of loss in exchange for the possibility of love? Fortune challenges us with these questions in a funny, charming play written and deftly directed by Deborah Zoe Lauffer and presented by the Hangar Theatre Company in association with Geva Theatre Center. In the program, Ms. Lauffer reveals that this play was inspired by a real-life encounter with a disenchanted fortune teller many years ago. 
As the play opens, we meet a 30-something fortune teller named Maude who is glumly chalking off on her walls the dreary litany of days she's lived so far. She has inherited her career and skills from a long line of psychics, the latest of whom was her mother, who deserted her at a young age after revealing that her destiny was to tell fortunes and eventually die.
Enter Jeremy, a sweet and socially awkward young man whose family was killed when he was young, leaving him bereft of love, self-esteem, and friends. He comes to Maude seeking insight on whether there is a love interest in his future. If there is not, he plans to do away with himself, fulfilling career notwithstanding.
Part of the success of this play, beyond the wonderful performances by Lena Kaminsky and Ian Lowe, is that we all recognize the characters of Maude and Jeremy in people around us (and possibly even within a corner of ourselves). Maude and Jeremy represent all who are unhappy with their fate and want a deeper, more fulfilling life, but are uncertain of how to achieve it…or even whether that's possible.
As the nerdy, desperate, accountant Jeremy, Ian Lowe gives us a character we just want to hug and reassure that everything will be okay and that life will get better. At the beginning, Lena Kaminsky's Maude is reclusive, cynical, prickly, and resigned. We laugh because her portrayal is funny, with a dollop of hope, and because we realize Maude is her own worst enemy. She keeps pushing Jeremy away, but he keeps returning like a lost puppy. As the two explore their pasts and how loss has shaped their lives, they grow as characters, which is at the core of any good play. They demonstrate that, when they have the courage to reveal their thoughts and feelings, become open and vulnerable, and develop into their true selves, anything is possible, even as it seems to defy fate. 
Kudos to Kent Goetz on the quirky, fantastic set, to Mira Veikley on the inventive array of costumes, and to the lighting and sound designers, whose work added to the magic of this show.
If you enjoy a delightful romantic comedy, make sure you have the good fortune to see this play! Fortune can be seen live onstage now through October 21 at Geva Theatre Center's Fielding Stage.
"Lena Kaminsky and Ian Lowe in Fortune. Photo by Goat Factory Media Entertainment."
---
Carol White Llewellyn is Editor of BeyondTheNest.com and the host and producer of Conversations with Creatives, a cable and online TV program that explores the arts and celebrates artists and their work.