Beyond the Nest Reviews Wallbyrd Theatre Co.'s Greater Tuna
-By Carol White Llewellyn
Wallbyrd Theatre Co.'s production of Greater Tuna is a quirky comedy that centers on a day in the life of Tuna, "the third smallest town in Texas." Playwrights Jaston Williams, Joe Sears, and Ed Howard focus their comedic satire on 20 or so residents of the town, who are presented in all their stereotypical, small-town glory by two wildly talented actors, Shawn Gray and Frederick Pienkoski.
The show begins with Thurston Whellis and Arles Struvie, giving their daily broadcast from radio station OKKK. Throughout the play, the station's folksy broadcasts erupt sporadically from an amazing collection of vintage radios stationed across the down-home rustic set, providing testament to the important role the station and its radio personalities play in influencing the lives and thoughts of the town's zany collection of residents.
As we visit with each "upstanding citizen" of the community – sometimes at the radio station, sometimes in their home, occasionally in the funeral parlor – much of the humor is derived from the fact that most of the towns' residents have a moral compass that doesn't exactly point north. 
Here in Greater Tuna, you'll find the President of Smut-Snatchers of the New Order, committed to protecting youth from immoral reading materials such as Huckleberry Finn and Romeo and Juliet, the head of the local KKK Chapter who is working to "make the town safe for the right kind of people," the shop owner of Didi's Used Weapons ("If You cain't kill it, it's immortal"), the entire wacky Bumiller family (including its 8 to 10 dogs that appear on stage in imaginary form), and a variety of other colorful characters. 
Although the play lacks any serious content, Director Virginia Monte and Actors Shawn Gray and Frederick Pienkoski deliver on "comedy for comedy's sake." From one "Tuna-tic" to the next, Gray and Pienkoski masterfully juggle a revolving lineup of characters, wardrobe, accents, and body language with acute comedic timing. Clearly, having a split personality was never so much fun!  Even when one minor wardrobe malfunction occurred, the two improvised a cover that had the audience in stitches.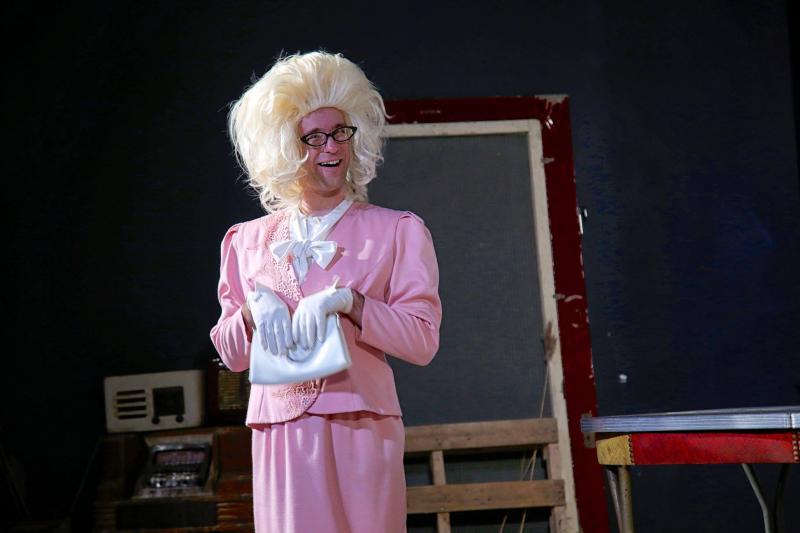 Accolades to costumer Linda Monte and dressers G. Spelvin and Leah Moore. I can't even imagine what the backstage wardrobe looked like to create the fascinatingly-coiffed and costumed carousel of characters these two men seamlessly carried off in time-ticking frenzy.
If you're looking for a hoot in "the holler," catch Greater Tuna onstage at the Avyarium, located on the second floor of the Village Gate, through February 3.
Photos: by Annette Dragon 
top: L. Shawn Gray as Jody Bumiller and Frederick Pienkoski as Bertha Mumiller
Bottom: Shawn Gray as Vera Carp, 
Promo photo: Frederick Pienkoski  as Aunt Perl
---
Carol White Llewellyn is Editor of BeyondTheNest.com and the host and producer of Conversations with Creatives, a cable and online TV program that explores the arts and celebrates artists and their work.