Beyond the Nest's Review of Geva's The Other Josh Cohen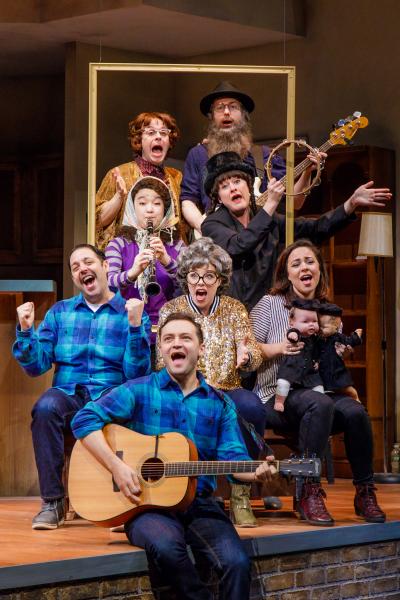 by Carol White Llewellyn
As I settle into my seat just before the show begins, two people dressed in black onstage catch my attention. A thought flits through my mind: "How odd that they haven't already finished setting the stage."  After a minute or two of close observation, I realize that the two characters are, in fact, not setting the stage, but emptying it of almost every single item, including the Swiffer mop and bundt cake in the fridge.
This innovative foreshadowing hints at the comedy and creativity you can anticipate in The Other Josh Cohen. It also plops you down in the middle of Josh Cohen's terrible, horrible, no good, very bad day…no, make that… life.
The book, music, and lyrics of this dashingly funny show are written by David Rossmer and Pittsford Native Steve Rosen.  If you're a Geva regular, you may recognize Steve as having played Pseudolus in Geva's A Funny Thing Happened on the Way to the Forum. He generously endows protagonist Josh Cohen with a lovable and self-deprecating nerdiness, made all the funnier by Rosen's impeccable sense of comic timing. Alan Schmuckler portrays Narrator Josh, the protagonist's witty, more self-assured, near-future alter ego. While he is there to reassure his younger self that all is not lost and his future is not as glum as  he might think, he is also the perfect comic foil; he knows his younger self so well that he can easily bait that self, with comical results. In this show, Rosen and Schmuckler are contemporary versions of some of the great male comedy teams of the past.
Six musician/actors perform the show's upbeat rock music on stage, allowing them to morph back and forth between singing the laughter-launching lyrics and portraying a vivid assortment of hysterical characters that pepper Josh's life with everything from love and quirky support to bewilderment and disdain. It is said that the best comedy incorporates elements of human truth, and judging from the laughter, Josh's dating scenarios, apartment situation, and phone calls with family members strike pay dirt, resonating with every person in that audience.The scene in which Josh calls his family and gets his father's "voice" on the answering machine is comedy at its richest.
This is a light-hearted and tremendously funny 90-minute, one-act romp through the misfortunes, almost-fortunes, and life-changing realizations that bring an underdog to the epiphany he needs to turn his life around.  You can enjoy it onstage at Geva's Wilson stage through February 4. If you're looking for a fun and funny evening out, don't miss it!
Photo:
The Cast of The Other Josh Cohen. Photo by Goat Factory Media Entertainment.
Carol White Llewellyn is Editor of Beyond the Nest and an advocate for the Arts. She is also Producer, Host and Editor of a cable and online Arts program, Conversations with Creatives.