Cirque Ma'Ceo is coming to Charleston!
---
*The event has already taken place on this date: Sun, 03/26/2023
---
For the first time • Under the Big Top at Johns Island County Park!
---
Please help us keep this calendar up to date! If this activity is sold out, canceled, or otherwise needs alteration, email mindy@kidsoutandabout.com so we can update it immediately. If you have a question about the activity itself, please contact the organization administrator listed below.
---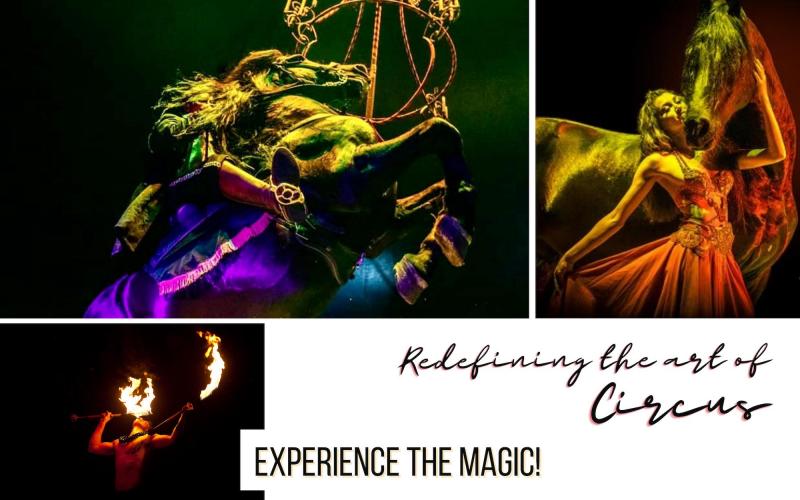 Cirque Ma'Ceo is a revolutionary theatrical phenomenon like no other. Mesmerizing acrobatic feats, aerial dancing, and exotic horses.
Showcasing the most beautiful horses and human artists from across the globe. Step into our exclusive universe and settle back in time.
Witness an up close and personal luxurious experience. Feast your senses on the beauty and mystery of Cirque Ma'Ceo.
When:
Friday 7:00pm
Saturday 4:00pm & 7:00pm
Sunday 1:00pm & 4:00pm
Where:
Charleston • Johns Island County Park
2662 Mullet Hall Rd.
Johns Island, SC 39455
Tickets are available in advance by following the link provided.
Our Box Office opens one hour before each performance.
We accept cash & card.
Parking is free and on-site
---
*Times, dates, and prices of any activity posted to our calendars are subject to change. Please be sure to click through directly to the organization's website to verify.
---
The event has already taken place on this date:
Time:
Friday 7:00PM Saturday 4:00PM & 7:00PM Sunday 1:00PM & 4:00PM