KidsOutAndAbout Reviews The Addams Family Musical
By Helena Robin

The Rochester Broadway Theatre League's 2012-2013 season continues at Rochester Broadway Theatre League with the touring production of The Addams Family Musical.
Imagine for a moment what would happen if The Rocky Horror Picture Show met a nice film from a good neighborhood like Steve Martin's Father of the Bride.  In spite of the odds, they fall in love and eventually have a show of their very own.  The proud parents name their little miracle The Addams Family Musical and the world rejoices!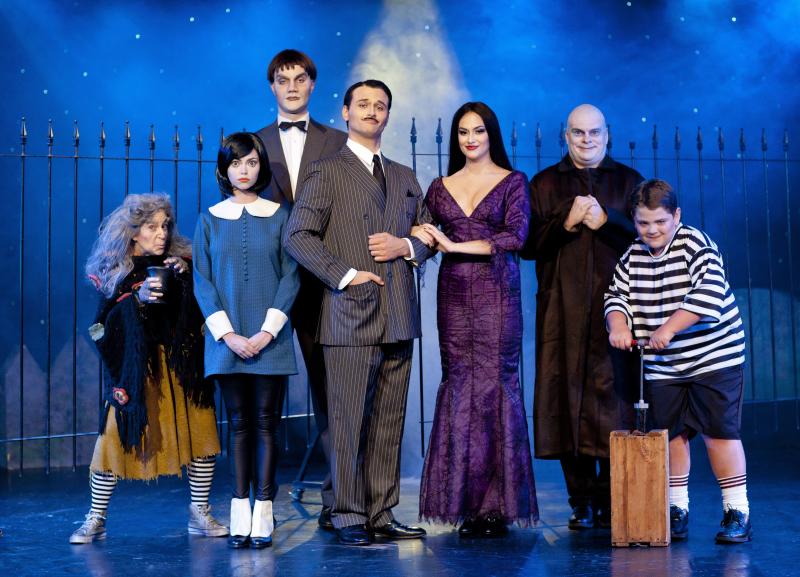 Summary
The Addams Family Musical is based on the classic cartoon characters and the beloved television series and film franchise that has become a strange part of our culture.  This new story takes a familiar situation and turns it on its ear as Wednesday invites her normal boyfriend and his normal parents to dinner where the young couple hopes to announce their engagement to both sets of parents.
It is a love story, but not a romance.  Gomez loves Morticia, Wednesday loves Lucas, Uncle Fester loves the Moon and Cousin It steals a kiss from a fetching tassel.  But of course, nothing with the Addams Family, or love for that matter, is simple.  Thank goodness the Addams Family can make all the bumps and twists in the road hilarious!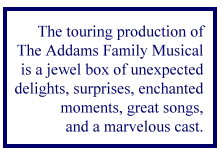 The Show
The writing collaborators of the show, Marshall Brickman and Rick Elice, created the story. Andrew Lippa made it sing and dance with his music and lyrics. Brickman and Elice worked together for the first time on a little show you might have heard of called Jersey Boys, for which they won an Olivier Award and 4 Tony Awards! Lippa, no slouch himself, received a Tony nomination for the Addams Family and created new songs for You're a Good Man, Charlie Brown.
I'm torn between the desire to avoid spoilers for the show and the need to share every single bit of it with you!  What makes this show so delightful is the fact that the fun begins the moment the house lights blink to encourage folks to take their seats and doesn't end until the curtains go down and the lights are brought up after the finale.
Moments that in real life would make my daughter cry instead made her (and the other kids and adults in the audience) laugh out loud. Charming references to the non-featured characters pop up unexpectedly and with regularity. And, for the record, any time a cast list includes a Puppeteer (especially one named Basil Twist!) you can bet I'll be in line to get tickets.
Cast
Gomez Addams is perfectly played by accomplished actor and comedian Jesse Sharp. His Gomez is a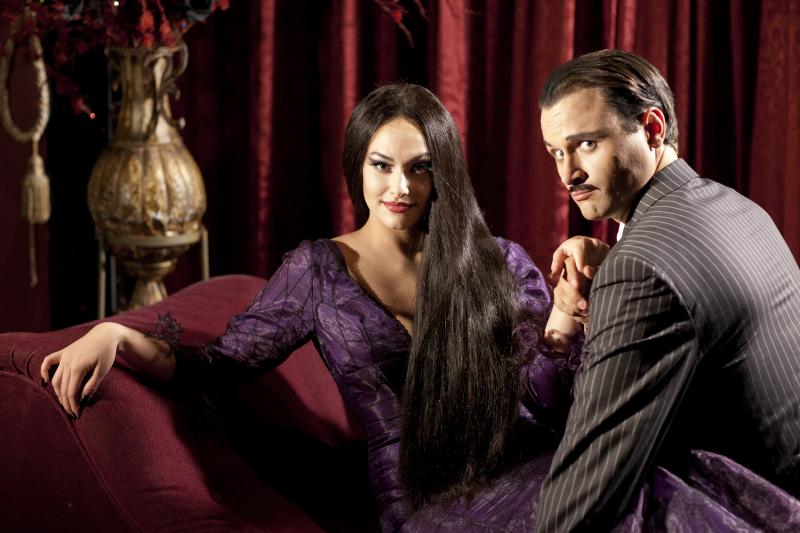 snappily dressed Latin charmer with blazingly white teeth, a rolling accent and a dreamy voice.  He is also a devoted husband and father who is stuck between a skull and hard place (ba dum dum) in the story. Shh…don't tell anyone, but Gomez is my new imaginary husband!
Morticia has never been one of my favorite Addams Family characters, but KeLeen Snowgren has changed all that for me.  She brings a sweetness and vulnerability not generally seen with Morticia, but which make her much more approachable and relatable. Don't get me wrong, Morticia is still severe and macabre, but she is also a loving mother and devoted spouse. Snowgren has a great talent to be able to pull this off so naturally. She also sings my daughter's favorite song in the show "(Death is) Just Around the Corner" – a toe tapping number that had us all laughing.  I wish the tour's website had a clip of Snowgren singing the song, but I've only been able to hear versions with Bebe Neuwirth and Brook Shields. Personally, I think Snowgren has them both beat! But, if you're curious, here's a clip sung by Brook Shields from the show's official YouTube page.
Jennifer Fogarty and Bryan Welnicki play Wednesday and Lucas, the young couple hoping for their parents to bless their engagement.  They work really well together and their chemistry makes the audience route for their relationship to succeed in spite of the obstacles in their way.  Fogarty, in particular, belts out a few great songs.  "Pulled" perfectly expresses Wednesday's struggle with who she thought she was and who she is becoming now that she is in love.  I have to give a special high five to Welnicki who not only manages to make me believe that Wednesday Addams could fall for a boy like him but who also shares a hometown in CT with me (and no, I won't tell you by how many years we missed each other in high school…).
Uncle Fester, who serves as a narrator of sorts during the show, is played by Shaun Rice.  Thanks to Rice's sweet, weird-in-a-good-way take on Uncle Fester, I feel like I could finally be in the same room with Gomez's brother and not feel completely creeped out.  In this production, Uncle Fester is in love with the Moon and this long distance relationship is the source of one of my favorite numbers in the show, "The Moon and Me," and one of my favorite moments during the finale. 
The always effervescent Lurch is played by Dan Olson.  I wish I could spill the beans about Lurch, but I'm not going to! You see, I don't want to deprive you of the treat of spontaneously gasping, cheering and erupting in mad applause.
Supporting Roles
Sam Primack was in the role of Pugsley the night we saw the show. Out of all the Addams Family characters, I like Puglsey the least.  Primack, however, was sweet, adorable and – dare I say it? – loveable!  With his pet lizard and very special Monster Under the Bed, you can almost imagine that he is a regular little boy.
Grandma, who may or may not be a stranger squatting in the attic, doesn't have a large part.  Amanda Burton makes the most of her moments in the spotlight, though and chimes in with some pretty fantastic one-liners.
The Beinekes – Mr. and Mrs. Normal – are played by Blair Anderson (Alice) and Mark Poppleton (Mal).  They are the perfect representatives of a normal couple – complete with built up resentment, annoying habits and distance between them. Anderson perfectly embodies the walking Hallmark card Alice has become and Poppleton is the spitting image of a repressed and snarkeyJames Lipton.
Rounding out the cast are the Ancestors – the ghosts of Addams' past.  The assembled members are a great team and support the leads brilliantly.
Bottom Line
The touring production of The Addams Family Musical is a jewel box of unexpected delights, surprises, enchanted moments, great songs and a marvelous cast.  The show is peppered with very funny gallows humor and balanced by the witty lampooning of normal ("What is normal after all?  What's normal for the spider is a calamity for the fly!").  The show is neither gruesome nor depressing – quite the contrary! The story, music and talented actors all work together beautifully to achieve the perfect balance of eccentric creepiness and life affirming joy.  Fantastic!
Practical Information
The Addams Family Musical will be appreciated most by kids 8 and over.  There are moments of bedroom humor in the show, but the jokes are subtle enough so that younger audience members won't get them and your teenagers won't be mortified to be hearing them in front of you.  If your kids are familiar with the television series or the movies, they will understand more of the inside jokes and character appearances, but it's not necessary for them to enjoy the show.
The run time is 2 hours and 20 minutes with a 15 minute intermission.  The time passed by very quickly and I didn't notice any bored fidgeting amongst the younger audience members.  Although I suggested that 8-year-olds will enjoy the show, I know plenty of 11-year-olds who have a difficult time sitting still for this length of time so consider the show's length before purchasing tickets.
---
The Addams Family Musical is on stage at the Rochester Broadway Theatre League through February 10, 2013.
Auditorium Theatre
885 East Main Street
Rochester, NY, 14605
585-222-5000
© 2013, KidsOutAndAbout.com
---
Helena Robin ...is President and CEO of the Robin family. She coordinates and executes all family operations including (but not limited to) communications, transportation, management, catering, maintenance, troubleshooting, and cultural development. Her Executive Team comprises a Husband/Creator of Chaos and three unpaid interns.