KidsOutAndAbout Reviews Universal Yums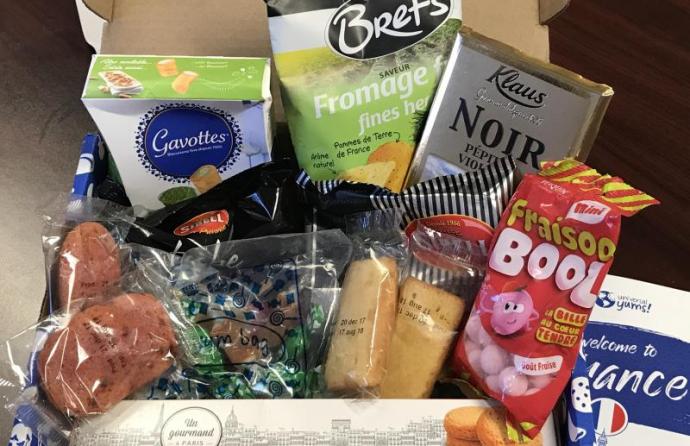 Our team at KidsOutAndAbout really loves to eat. 
So, when we heard about Universal Yums snack boxes, we knew we just had to try it. Universal Yum sends out a snack box focusing on a single country each month. You get a chance to "travel" to a new country and try the best snacks and candies available from that country.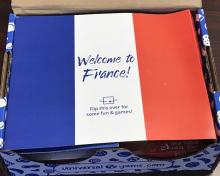 The folks at Universal Yums sent us their France box. It was tough to wait until we were in the office at the same time to open it, but we all wanted to taste everything together. After all, that was part of the fun. 
When we finally opened the box, there was a terrific educational booklet that explained all of the snacks as well as a score card for us to rank our favorites. We had so much fun passing the snacks around to taste and compare our favorites. Opinions were divided on a few, there was one clear loser, but almost all of the treats were a hit.
The folks at Universal Yums must work really hard to find such a wide variety of snacks from a different country each month. Our French selections were interesting, fun, and not at all what our American palates are used to. Verbena Candy? Yes, please. Most of us loved the herby, slightly sweet lozenge, so different from the cloyingly sweet hard candies we usually have. Sibell Snack tubes with cheese? They were a little bit like an earthy-flavored Combos. Bret's Crème Fraiche and Herb Chips? We could have eaten several more bags. The clear winner? French Palets, or butter biscuits. They were like shortbread cookies, only more delicate, more crumbly, with just the tiniest hint of salt.
We can't wait for our next box!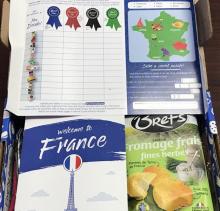 Our office is packed with parents, and we all think this would be a great idea for families with kids. The Universal Yums snack box offers the opportunity for kids to try new things, learn about other countries, and maybe discover that there is more out in the world than Cheetos and Sour Patch Kids. Even the pickiest eaters are tempted by candies and snacks, and the trivia and games make it easy to expand on the food-fest with some fun learning.
What we'd change
Our only complaint is that we'd love to be able to re-order the snacks we loved the most. We all want all of our kids to get the chance to try Rouillier Raspberry Madeleines. They're going to love them.
Treat your family (or anyone you love) to a subscription to Universal Yums. It's a delicious and fun treat that will make your month brighter.