KidsOutAndAbout.com review of Ringling Bros. and Barnum & Bailey Circus: LEGENDS
By Glenn McCarty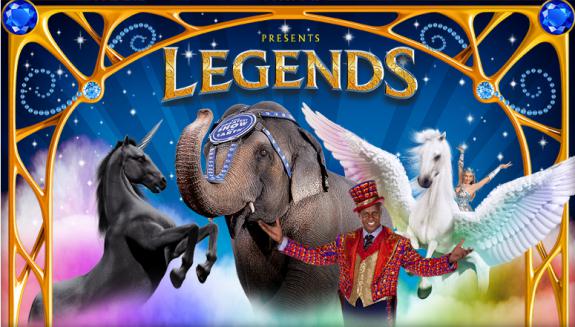 Now I know what they mean when they say "children of all ages." The Ringling Brothers and Barnum & Bailey Circus rolled through town this week showcasing its "Legends" show, which functions as sort of "Greatest Hits" from the venerable entertainment spectacle's storied history. And man, is this show a doozy. I wasn't just leaning forward in my seat; I was laughing, pointing in awe, and turning more than once to my wife and kids with a holy-cow-that-was-amazing expression on my slack-jawed face. The Legends show isn't just a great time for the kids; it's a fantastic evening out for whoever is taking them to the arena.
Anyone questioning the relevance of the circus in today's frenetic media-saturated climate should spend about 15 minutes at this show before the spectacle draws them under its spell. Despite Broadway, America's Got Talent, Circque de Soleil, and the like, there's still something to be seen at the circus you can't quite get anywhere else.
By rounding up a smorgasbord of its popular acts, the RBB&B has managed to stuff even more circus-y spectacle into its already fast-paced show. Here's a quick rundown of some of the more memorable acts gracing the three rings: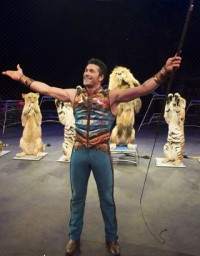 -The Torreses, a motorcycle-racing daredevil act from Paraguay, who manages to squeeze eight bikes into a giant steel cage that seems crowded when only four bikes are zooming around its circumferance. By the time they pack four more in, your jaw drops at the degree of difficulty
-Jonathan Lacey, the British lion tamer who performs in the center ring with close to a dozen lions and tigers, as well as later assisting in putting a half dozen Asian elephants through their paces.
-The China National Acrobatic Troupe, a group of performers who climb poles, balance precariously on bicycles, and twirl and toss a yo yo-like contraption called a diabolo.
In addition, there are a dozen or more clowns, trained dogs, a motorcycle on a high wire, and more. It's enough to make more than a few memories - and spur some pretty interesting try-at-home moments for young boys. While the Ringling Brothers Barnum & Bailey circus has gotten a lot more competition for its title of "The Greatest Show on Earth" since it first came to life as an American spectacle back in 1919, the Legends show has to come pretty close. Where else can you see trapeze artists hanging by their hair or a real live woolly mammoth? Okay, so the last bit was just a bit of costuming magic, but still, that's all part of the show, isn't it? 
---
See LEGENDS at Blue Cross Arena, Rochester. Remaining shows:
Thursday, October 29, 2015 at 7 pm
Friday, October 30, 2015 at 7 pm
Saturday, October 31, 2015 at 11am, 3pm, and 7:30pm
Sunday, November 1 at 1 pm and 5 pm
Don't forget to plan to get there an hour to an hour and a half ahead to enjoy the pre-show! Click here for tickets.
---
© 2015, KidsOutAndAbout.com
Glenn McCarty is a writer and father of two in Rochester, NY.