Get Enlightened About Science & History While You Explore the Dark at Howe Caverns

KidsOutAndAbout Reviews the Family Flashlight Tour at Howe Caverns
by Katie Beltramo
Our whole family had a great time exploring Howe Caverns during a Sunday evening Family Flashlight Tour. We spent the drive home talking about what we'd like to do next time we visit!
What IS Howe Caverns?

Howe Caverns Adventure Park first opened to the public to allow folks to explore its living limestone cave, carved over centuries from an underground river. The cave is huge: The main touring area is about 12 city blocks long! It gets about 160,000 visitors each year, making it the most popular natural attraction in the Northeast after Niagara Falls.
Howe Caverns has offered underground tours since 1929, and, more recently, there are tons of other attractions, including year-round Gemstone Mining and the seasonal Howe High Adventure with zip line, ropes course, rock wall and jumper and an H2OGo Ball attraction. As you might expect, it gets very busy during the summer months, when tourists arrive from all over to check out the natural wonder and stay for all of the extra fun. But those of us who are close enough for a day trip can take advantage of our proximity to visit the caves all year long, when the lines die down. Howe also offers a terrific opportunity to explore nature in relative comfort, because whether it's a blistering June day or a snowy day in February, the year-round underground temperature remains at 52 degrees.
What's a Tour at Howe Caverns Like?
Tours begin above ground, where you'll meet your tour guide and get an introduction to the place with a small exhibit that includes an animatronic Lester Howe. He'll regale you with the story of how he found and popularized the cave system, a story assisted by some goofy animation. Then you're ushered into elevators that take you down 156 feet, or about 15 stories, to begin exploring. As the tour guide points out, modern-day visitors have it much easier than Lester did, because there are carefully-constructed, well-lit brick pathways lined by railings, and a short boat ride in which visitors sit back while the tour guide acts as gondolier.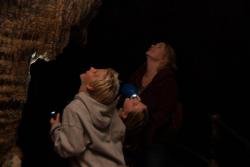 Tour guides are friendly, knowledgeable, and enthusiastic about the place. Their patter includes some basic information on geology and rock formations, like how the cave was formed and the difference between a stalactite and a stalagmite. They also cover a bit of local history, putting the cave into context with the Ice Age, Native Americans, and early tourism.
With a tourist attraction that's been around so long, there are also long-standing traditions and legends that have grown around the cave tours. If cold water drips on you during your tour, that's a "cave kiss," and it's good luck (in fact, when my youngest hadn't been "kissed" yet, we positioned ourselves under a drippy spot to increase her odds!). Tour guides and visitors can sing and hear their voices amplified by a formation called the "Pipe Organ." Kiss your honey while standing on the heart-shaped calcite stone at the bridal altar and you'll be honeymooning (or second honeymooning) within the year. Guides also make a game of finding images in the formations, like witches, a turtle, and other figures, sort of like you might find pictures in the clouds. It's a pleasant diversion, but it's also honing young kids' powers of critical observation and nurturing their imaginations. Howe Caverns offers plenty of opportunities like these to learn while having fun exploring.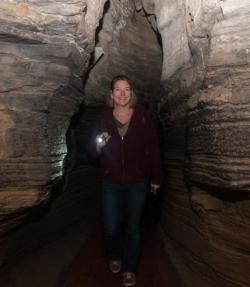 What's the Family Flashlight Tour, and How is it Different From a Traditional Tour?
Visitors taking the 2-hour Flashlight Tour (ages 5 and up) get all the fun of the 90-minute Traditional Tour (for all ages), plus more. At the beginning of the tour, everyone gets a small, high-powered LED flashlight, and kids get a second light that they can wear strapped on their heads, and these are souvenirs that you'll get to keep. You won't really need the lights as the tour guide leads you around, but halfway through the boat ride, all of the lights inside the cave area are shut off. Once your guide helps you off the boat, you're essentially set free to roam back to your starting point at your own pace, using only the flashlights to light your path. So, what makes this so special? Exploring the cave in the darkness really does offer brand-new perspectives, allowing you to notice the reflective quality of the water droplets on the cave walls and the translucence of some of the formations.
But even better, it gives you the freedom to explore at your family's own pace and the opportunity to play around with exploring the cave with all of your senses. If you turn off all of your flashlights, it's really dark: much darker than camping or hiding in the closet at night, too dark to see your own hand waving in front of your face. I'll bet it's the darkest dark that your family will ever experience. And that, my friends, is pretty cool.
Depending on the self-control of your family and the rest of the people in your tour group, it can also be very, very quiet. Our family would frequently freeze and turn off all of the flashlights, just to experience the dark and quiet. It became a game, especially when my husband pulled out his camera for pictures, because we'd each position ourselves in silly poses or sneak up on each other, then get caught in the flash. When I asked my daughter how she liked the Flashlight Tour compared with the Traditional Tour, she declared it, "way more fun."
Sounds Great! Are There Other Special Tours?

Yes! In fact, special for October, there are Saturday night Haunted Lantern Tours that sound super-scary and fun. These 2-hour tours, for ages 12 and up, rely on documented ghost stories from the caverns themselves (as we left, our tour guide, in earnest, reminded us that we should send in any photographs that had strange glowing streaks or unexpected images). If you're looking for an opportunity to scare your older kids while avoiding gore, this sounds like a great option. The guides report that they rely on the psychological terror over cheap special effects, and the result, according to one recent visitor, is a "classy" tour that still delivers plenty of screams.
The Adventure Tour sounds particularly fun. It's a challenging 2 hours of spelunking through territory you can't see during a regular tour, and participants (ages 12 and up) are suited up in protective gear to get through the twists and turns. Our guide said that the tour is "90% mental" because of the small spaces and tight squeezes. It's definitely on our list for the future!
The Lantern Tour is the grown-up version of the Family Flashlight Tour, a 2-hour tour with lanterns, appropriate for ages 16 and up.
So, Your Family Loved It--Do You Think My Family Would, Too?

Absolutely! Okay, probably, with a couple of caveats.
First, as you might expect, the Family Flashlight Tour is not for you if your child is afraid of the dark. But unless even dimness and shadows are a problem, you'll probably do fine with the Traditional Tour.
Second, everyone is asked not to touch the walls and formations throughout the caves. Some formations are more delicate than they look, and just the oils from our hands can damage the cave walls. So if you have children who are not great at, ahem!, looking with their eyes, you might do better to wait until they've got a bit more self-control, especially since it's tough to supervise in the dark of the Flashlight Tour.
The Family Flashlight Tour begins at 6:30 pm in October, which is a little late for young kids, but starting in November, the start time is a much easier-to-handle 3:30 pm.
Any Tips If Our Family Goes?
We love to offer tips! Here are a few:
Wear comfortable walking shoes that are not slippy. Flip-flops are not allowed on the tours.
Regardless of the season above ground, the cavern is about 52 degrees. Plan to wear a sweatshirt or light jacket.
You don't need to bring flashlights for the Family Flashlight Tour: They're provided for you.
Don't bring bulky backpacks or strollers. Tight spaces and some stairs just won't accommodate these, and they're not allowed.
Arrive at least 15 minutes early so that you can check out the gift shop ahead of time. The Flashlight Tour occurs at the end of the day, so you won't be able to browse once it's over.
Take a bathroom break right before you enter! You'll be down in the caves (without access to a bathroom) for about 2 hours, and if you all want to truly enjoy listening to the quiet drip, drip of water in the dark, well. . . enough said.
Before you arrive, let kids know that they must not touch the cave walls or formations because the oils in their hands can damage these surfaces. They'll be reminded by tour guides, but it's good to set expectations from the start.
Bring a camera with a flash. Hands-down, some of our best moments were mugging for the camera in complete darkness.
Whether you want to take advantage of the scare factor with your teens or you'd like an option for active fun that doesn't involve s-n-o-w this winter, a cavern tour is excellent family fun, and it's a great way to have a learning adventure as a family!
Click here for the most updated information on tours, schedules, and prices.
---
© 2014, KidsOutAndAbout.com
---

Katie Beltramo, a mother of two, is the Albany editor of KidsOutAndAbout and also blogs at Capital District Fun.
Top photo and Howe Caverns Adventure Park logo provided courtesy of Howe Caverns; other photos are family snapshots.