This Is the Place Heritage Park: Good Old-Fashioned Fun
By Kerry Smith, Salt Lake City Editor, KidsOutAndAbout
Visiting This Is the Place Heritage Park in Salt Lake City is like stepping back in time to the 1800s. Pioneer-era homes, a village, activities, and staff members dressed in character provide just the right setting for you and your family to experience a little of life out west many years ago.
Don't rush the experience. Plan to come for a day, preferably when the park opens. Your admission provides you with entrance to the whole park plus three activities of your choosing. There are several arts and crafts activities, plus pony rides and a mini-train ride. A train ride around the entire park is also part of your admission price; ride it as many times as you like. Our family really enjoyed the experience.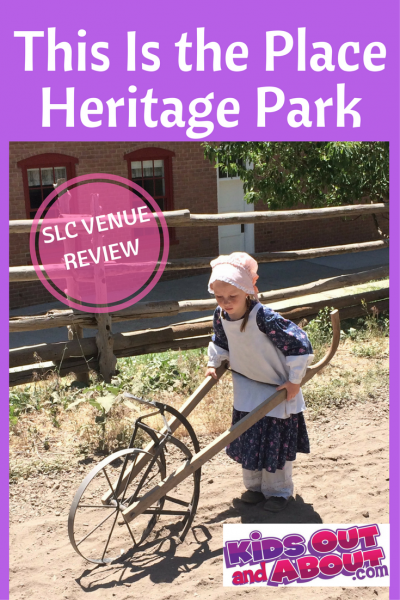 This summer, This Is the Place invited me to bring my two boys as well as extended family for a visit. My sister, Karen, and her two girls were happy to help me explore this unique park. As we entered the main gate, her girls immediately thought the setting reminded them of what their family had seen while visiting historic Nauvoo, Illinois. They were delighted to find something similar in their home state.
Historical Background
Much like what you'd see in Nauvoo, This Is the Place Heritage Park, located near Utah's Hogle Zoo at the mouth of Emigration Canyon, is pioneer-esque. The various structures throughout have been carefully replicated or preserved, moved to the park, and reconstructed. There are quaint streets to visit in Heritage Village, featuring several clapboard homes, cabins, a bowery, a blacksmith shop, barns, a dugout, a drugstore, a hotel, a hospital, church, social hall, and much more.
If you've lived in Utah for long, you'll recognize the street and building names. Prominently featured are Brigham Young, the second prophet of The Church of Jesus Christ of Latter-day Saints and first prophet to live and direct in Utah. There's also Heber C. Kimball and Orson Pratt, both original members of the Quorum of the Twelve Apostles in early church history.
Despite the influence of early-Mormonism in many of the names and history shown throughout the park, there's no preaching. "This is the place"  is part of a phrase Brigham Young reportedly declared when he and early church members first entered the Salt Lake Valley after migrating west. Finally, their 1300-mile, arduous journey from the East and midwest had ended. The Park is also a tribute to Native Americans who lived here first, as well as trappers and other immigrants who passed through or settled in Utah. Monuments in the park depict appreciation for all who helped to settle this great Salt Lake Valley.
Our Favorites
Go and enjoy some good, old-fashioned fun. Our favorite stop at the park was The Treasure House. For a couple of bucks, your kids can pretend they are early miners and dig for hidden "gems" in a shaded pit full of silt and sand. There's a spot especially for the little ones and plenty of room for older kids to dig and dig. This is a great activity from toddler to teen. My sister and I sat in the shade nearby and had a great visit while the kids were entertained. We oohed and aahed over their special finds that they put into little souvenir sacks.
When that fun was over, we simply turned to the next activity in the same shaded area--panning for gold. A shallow, man-made stream is enticing on a hot day. Shoes come off--or not--and the thrill of discovery unfolds. Staff dressed in costume explain the rules and how-to of panning as they provide small pans perfect for small hands. It just so happens that gleaming nuggets abound in the water, and our little ones were thrilled to "strike it rich!" The older kids played along and still had a great time learning the skill of gold panning.
Before leaving The Treasure House, we stepped inside the cabin store to see their mining display, which is viewed from the floor down into a pit--all covered with plexiglass. This diorama presents a great option for parents to explain how many men spent their lives digging for coal and precious gems to support their families.
Next to all this fun is the Native American Village. You have to visit. There are crafts and scheduled ceremonial dances. Even if your timing isn't quite right, you'll still want to visit the various teepees and hogan in this noticeably red-rock area. Your kids will want to make a "real" arrowhead necklace for a take-home souvenir.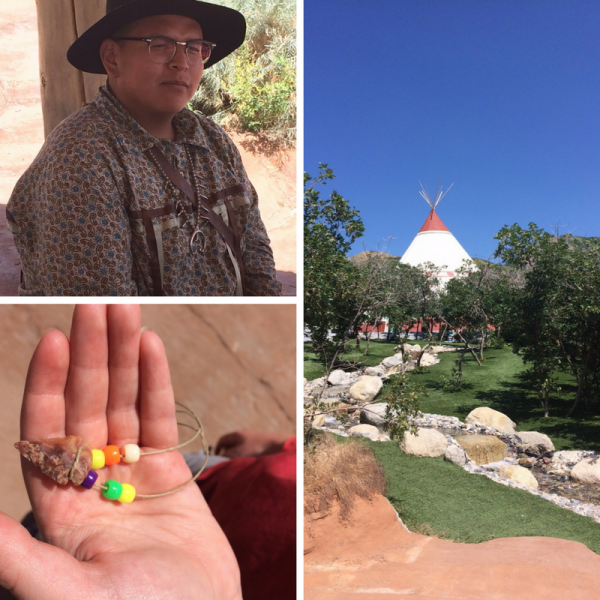 Around the Park
Since the train stops at all the main areas, you may want to ride it first to get an idea of all the park has to offer. Then decide where you want to spend your time. The conductor is a tour guide who explains everything very well, and is happy to answer your questions. When first entering the park, go ahead and walk up the street. There's a train stop is at the top of the street, and you can explore on your way up.
Homes and a few stores are on the right. We visited all of them. Our kids loved one house where they learned all about pioneer antiques and tried their hand at pioneer games and household chores. My youngest was enthralled with washing clothes by hand in a bucket with a scrub board. Hanging them on a clothesline with old-fashioned pins was awesome. Then ironing by hand was a thrill. Apparently, chores are fun if they're pioneer style and only last a few minutes. Nearby, a young girl dressed in pioneer clothes showed us how she plowed a garden. She was authentically adorable in her role.
Continue up the street on the way to the train stop, but make sure you stop for donuts at Brigham's Donuts. See it, smell the delicious aroma, or ask a pioneer to show you where it's located. The donuts are small and half a dozen go down pretty quickly, so purchase several orders. They're hot and fresh--straight from the fryer while you wait. The dunking sauces are fabulous too.
Then cross the street to burn off donut calories and visit the farm and petting zoo. Pony rides are there as well, which my nieces loved. We spent about a half hour in the general area and stopped at the Blacksmith Shop for a few minutes. My sister and I were raised on a farm, and our kids have visited several. So we wanted to focus more on other areas of the park, but several kids were hanging out at the farm for a while. Ponies and cute animals can be so alluring.
Next Time We Visit
At the end of our visit, we enjoyed looking in the gift shop. It's your first stop where you buy your tickets, but we just glanced there when we first arrived. We stopped to look and buy when we left. It's a really cute shop with a lot of fun pioneer goodies to explore. Downstairs is the Visitor Center, a small museum that we looked at for a few minutes. Without kids, our stay there would have been longer.
We explored the majority of the park, but there were several places we didn't have time to visit. Learn from us and arrive at the park when it opens. We got there about three hours after it opened and ran out of time to do everything. We would love to have visited the Hotel and eaten something yummy there. Being shopping divas, my sister and girls would have enjoyed seeing inside the first ZCMI Mercantile. Altogether, there are over 50 buildings in Heritage Village. Each one may not be a significant stop, but there's a lot to see and do.
We crossed the parking area for a few photos at This Is the Place monument. We would love to spend more time here during our next visit. The monument is huge and detailed on all sides. Its artistic beauty captures the main reason for visiting, as do other statues just down the lane. All are bronze tributes to those who helped tame the great wilderness we now enjoy as beautiful Utah.
Thanks to This the Place Heritage Park, my sister and I enjoyed showing our children some of the history and culture that helped to form this great state we call home. 
General park information:
Open daily,

except Thanksgiving, Christmas Day, and New Year's Day. 10 am to 5 pm.

Admission for summer: Monday through

Saturday

: $12.95 adults; $10.95 seniors (65+); $8.95 children (3-11); free 2 and under.

Sunday

: $6.95 adults; $4.95 seniors (65+); $3.95 children (3-11); free 2 and under.

For winter:

same as Sunday rates all week long.

Children's parties.

Create wonderful memories to celebrate a child's birthday or other special occasion.

Big groups.

Group tours, school field trips, and youth activities are easily accommodated. Education is a focus at the park, and they are used to large crowds.

Special events.

Visit for

Baby Animal Season

,

Pioneer Days

,

Halloween

, or

Christmas

, to name a few special events. The park changes for the seasons.

Volunteers.

There are a variety of volunteer options for the whole family. Plan ahead of time, because these opportunities fill up.
Know before you go:
Outside food and beverages are permitted.

Bring plenty of bottled water. We saw few drinking fountains. Snacks are also a must for kids. There are two places in the park where you can purchase food--the hotel (grill and ice cream shop) and the donut shop. The gift shop sells a few things too, mainly candy. So keep a few snacks on hand so you and your children don't get hangry. :)

Bring a folding stroller or foldable wagon if you have kids.

We took a folding wagon, and it was a lifesaver. Kids could sit in it as needed, plus we didn't have to hold stuff. Make sure it's easy to fold or maneuver so you can take it with you on the train. Some of the cars have narrow seating. The last car on our train had a big enough entrance and aisle that we didn't have to compact our wagon. When entering any of the buildings, we simply parked our wagon outside in the shade.

Wear comfortable shoes.

You'll walk a lot. Even if you go in hot weather, you might want to consider closed-toe shoes and socks instead of sandals to prevent blisters and protect bare feet.

Consider allergies.

You're outside with dust and the park is "natural." Think sagebrush, wildflowers, animals, and more. Bring medicationss or whatever you might need. My nieces have asthma. They were fine and didn't have to use their inhalers, but it can be a concern. Use your discretion and come prepared. At the farm and pony rides there are hand-sanitizing stations.

Pack the essentials

. In the summer, you'll want sunscreen and a hat. You might want to bring insect repellent as well. For cooler weather, make sure you have a jacket or coat, mittens, and a hat. You can buy a few essentials like sunscreen at the gift shop, but it's at the front of the park--not super convenient if you're out exploring the village.

Handicap accessible?

You can push a wheelchair around, but it'll be bumpy and a big effort. Everything was "wheelchair accessible," but I honestly wouldn't want to visit with a wheelchair. Here's a

link to a photo gallery

. You be the judge.
Kerry Smith, is a former editor and writer for the Ensign magazine. She enjoys getting "out and about" with her family. You can read more about how she helps others at mrsladywordsmith.com.